With just a few easy steps and easy-to-find ingredients like oats, PB2 powder, coconut oil, and maple syrup, you can whip up a batch of these delicious healthy peanut butter oatmeal cookies in no time. The fact that they're only 90 calories per cookie is just the icing on the cake!
Let's make a quick batch of healthy peanut butter oatmeal cookies! This simple healthy peanut butter oatmeal cookies recipe using PB2 in the cookies, like these no-bake oatmeal cookies, and is the perfect tasty treat!
It's made without refined sugar and is full of additional nourishing ingredients like protein, oats, and coconut oil (or vegan butter). Plus it goes great with a fresh glass of homemade almond nut milk!
Jump to:
Why these oatmeal cookies with peanut butter are so great
These PB2 cookies are soft with the perfect chewy cookie consistency in a delicious treats. Get ready for a delicious and nutritious treat that will make have you keeping these in the house often!
These healthy oatmeal cookies are low fat! To keep the fat content lower in peanut butter oatmeal cookies use PBfit Peanut Butter Powder or PB2 Peanut Butter Powder which is all natural, vegan, gluten free and low in fat!
Refined sugar-free! These cookies are also refined sugar-free so they keep blood sugar levels stable.
I eat 2-3 of these incredibly soft oatmeal cookies each morning and feel full until lunch. I even workout each morning after breakfast and school drop-off and have a protein shake but am still full until lunch.
My post workout protein shakes are just to help with building muscle and nutrients that have been depleted during weight lifting. Why am I telling you this - because these healthy peanut butter oatmeal cookies help curb an appetite and can help support weight management.
Key ingredients
Dry ingredients of flour, grains, and leavening agents - old fashioned rolled oats gluten-free, peanut butter powder PBfit or PB2, gluten-free flour, baking soda, cinnamon, salt
Wet ingredients of sweeteners and binding elements in baking - maple syrup, eggs, coconut oil or vegan butter, vanilla
optional additions - you can add almond slivers or chocolate chips in addition to this basic PB2 cookie recipe.
As always, see full recipe card below for quantities.
Oats and PB2 Powder Variations
Oats - this recipe calls for rolled oats but you can also use quick cooking oats in the same quantity.
Almond butter - Some individuals prefer almond flour or almond butter over peanut butter. Well guess what, they now make an almond butter powder that you can use in place of the peanut butter if you prefer. Try these oatmeal cookies with this almond butter powder for a variation.
Recipe directions
See full recipe instructions in the recipe card below.
In a large bowl combine the wet ingredients. Add in the dry ingredients and mix to form the cookie dough.
To hold the cookies together I use coconut oil and let the dough set for about 30 minutes to moisten the oats. This process also allows the coconut oil to harden making the dough easier to roll into balls.
Once the dough has hardened roll it into 2-inch balls then smash them down to flatten keeping each peanut butter oatmeal cookie about 1 inch apart.
Bake the cookies in the oven on the center rack for 8-10 minutes. Let the cookies cool for 10 minutes before transferring to a cooling rack.
Recipe FAQs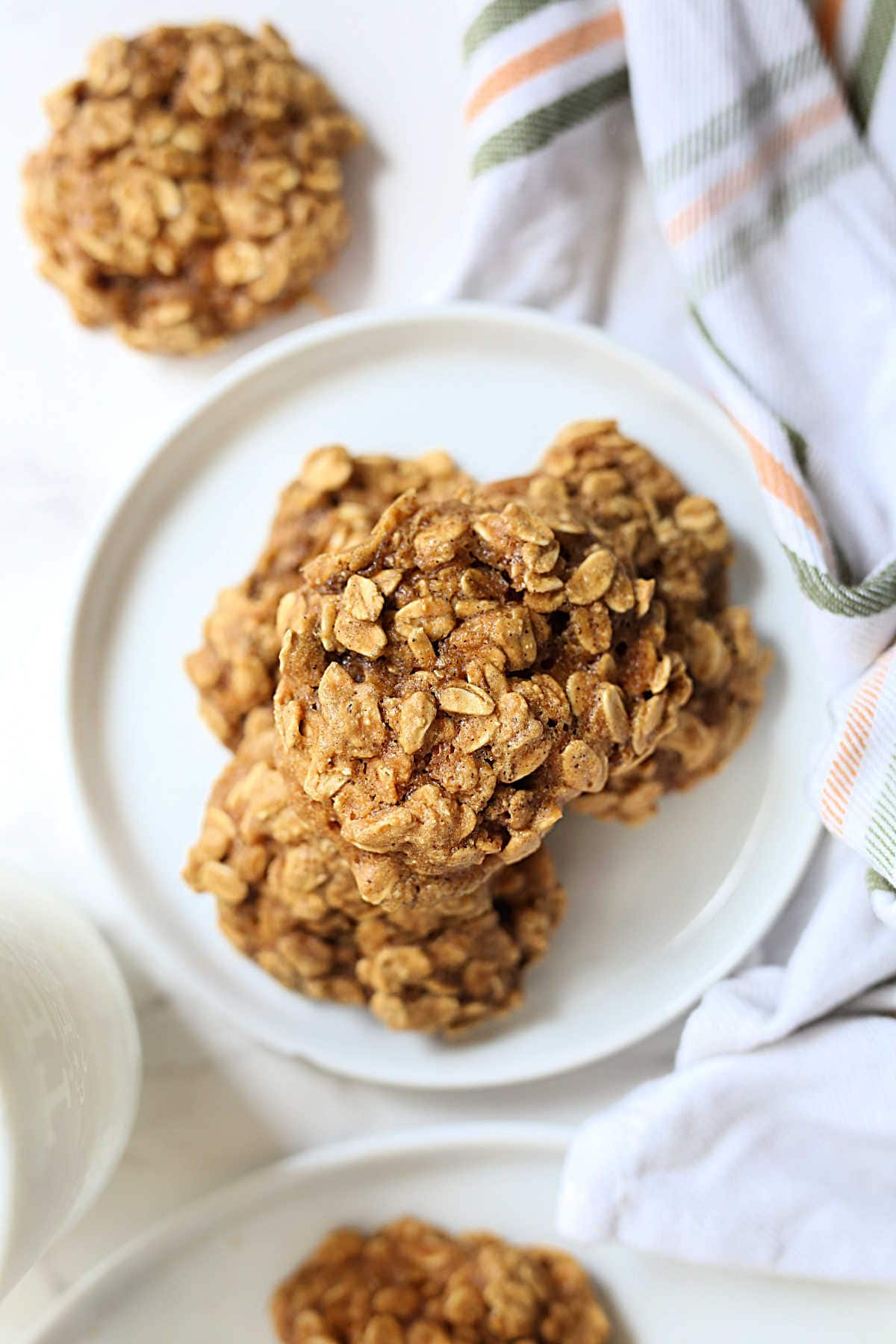 More healthy oatmeal cookies recipes
I hope you enjoy this healthy peanut butter oatmeal cookie recipe! Follow along with me on Instagram, Pinterest, Facebook, YouTube and Twitter to be featured and for more recipe inspiration! And don't forget to rate the recipe in the recipe area and leave a comment below.