Spice up dinner time with these 30 simple vegetarian dinners that are wholesome, gluten-free and come with low-carb, grain-free options!
If meatless Monday's feel a little hard to figure out, here are 30 awesome vegetarian dinner recipes to try! 
I have one child that is 99% vegetarian. He thrives off eating a plant based diet along with only about two kinds of cheeses. Then I have another one that will eat all the cheese in the world and every type of meat known to mankind. To keep everyone nourished, we like to eat vegetarian dinners about 4-5 nights a week and our plates are always at least 3/4 full of plant-based foods every night. I thought you might enjoy a round-up of a month's worth of vegetarian dinners to keep dinners fun and never boring!
The Benefits of a Vegetarian Diet
A vegetarian diet is a diet that focuses on eating plant-based foods. What could be better than that?!! It provides a wide array of nutritional health benefits including reducing cardiovascular disease, type 2 diabetes, certain types of cancer and aiding in weight loss.
The majority of plants naturally contain protein such as spinach, nuts, seeds, quinoa, legumes and lentils, plus they are packed with fiber to help flush out toxins from the body! You can also get protein from eggs and cheese (both vegan cheese and dairy cheese).
These vegetarian dinners are all gluten-free, plant-based, lower in carbs and grains and you will also find grain-free, dairy-free and vegan options.
Here is how I suggest using these recipes. Click the links and print them out. Then keep the recipes together in a notebook or stapled together and you have a month's worth of delicious vegetarian meals!
30 Vegetarian Dinners
Grilled Portobello Mushrooms in Garlic Sauce. This vegetarian dinner has gourmet written all over it! Grill or bake these savory marinated Portabella mushrooms and serve them with this warm garlic sauce. It is a gluten-free vegan dish you will want to make on repeat! Recipe by Vegan Richa. Get the recipe here.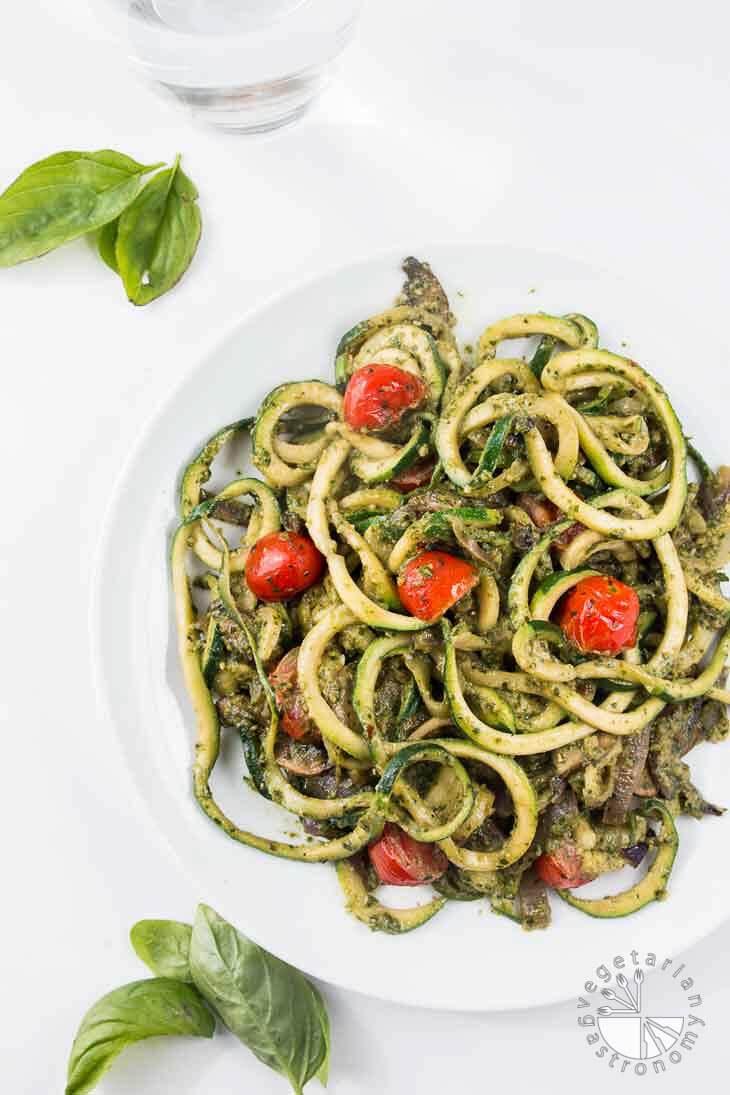 Pesto Zuccchini Spaghetti Recipe. This zoodle dish is healthy, low carb, gluten-free and ready in 20 minutes! My mouth is just watering looking at those blistering cherry tomatoes and mushrooms! A family favorite the kids will love twirling on their forks. Recipe by Vegetarian Gastronomy. Get the recipe here.
Savory Roasted Sweet Potatoes and Carrots Buddha Bowl. This is an easy dinner consisting of roasted sweet potatoes, carrots and onions tossed in a light olive oil marinade and served with sauteed cauliflower rice. Slowly roasting in herbs brings out bold flavors of the root vegetables. It is plant-based, wholesome, Whole30 and paleo too! Get the recipe here.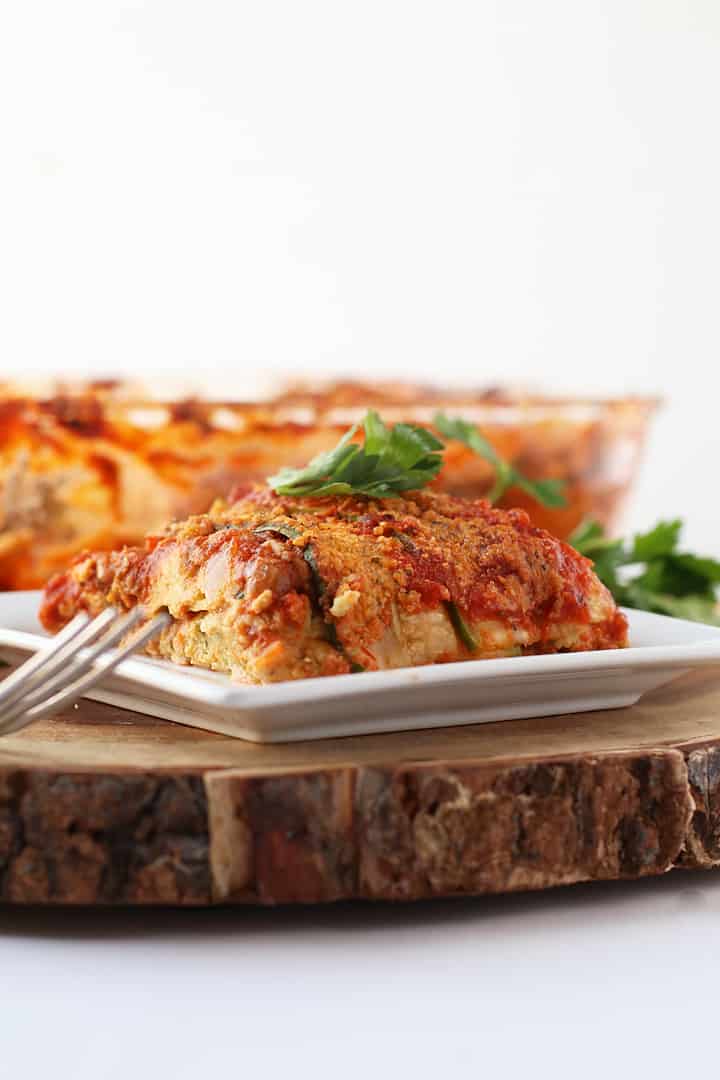 Vegan Zucchini Noodle Lasagna. Doesn't this lasagna look fantastic?! You'll never miss the meat and dairy as it is made with cashew ricotta and tempeh "beef". Recipe by My Darling Vegan. Get the recipe here.
Creamy Vegetarian Taco Chili Soup. Warm up with this creamy taco soup made in the slow cooker or stovetop! Get the recipe here.
Vegan Garlic Bread Pasta. Italian night has just began with this healthful gluten free pasta dish! You'll love how easy it is to make hemp seed Parmesan, which is the garnish that makes this dish superb! If you want a grain-free dish, use spaghetti squash noodles. Recipe by Yup It's Vegan. Get the recipe here.
Low Carb Mexican Baked Spaghetti Squash. This recipe takes spaghetti squash to a whole new level! It is baked with an easy mushroom sauce and ready for you to top with your favorite cheese and salsa! Get the recipe here.
Raw Spiralized Thai Salad. A refreshing crispy and crunchy salad to serve for dinner or as a side dish. Recipe by Strength and Sunshine. Get the recipe here.
Spaghetti Squash with Ratatouille. Sharon really knows how to make one delicious ratatouille recipe! Top it on spaghetti squash for a low calorie dinner that is rich in dietary fiber, anti-oxidants, minerals and vitamins! Recipe by Sharon Palmer. Get the recipe here.
Cauliflower Rice Paleo Baked Fritters. Cauliflower rice mixed with carrot shreds, flavorful herbs and grain-free flour is a wholesome meal formed into patties and baked on a sheet pan! These are a kid favorite and incredibly healthy! Get the recipe here.
Zucchini Noodles with Tomatoes and Hemp Pesto. This dish does not skip on protein! Just 2-3 tablespoons of hemp seeds contains 11 grams of protein. Sprinkle as much as you want for an extra nutritional boost! Recipe from the Conscious Dietitian. Get the recipe here.
Vegetarian Fajita Burrito Bowl. Have dinner on the table in 30 minutes with this refreshing vegetarian fajita burrito bowl! Instead of rice, serve with sauteed cauliflower rice for a grain-free, lower calorie meal. Get the recipe here.
Simple Vegan Quinoa Fried Rice. Ready in 15 minutes, this recipe just looks like nature! It is a savory Asian infused dish that is packed protein quinoa, flavorful vegetables and a splash of hot sauce. For gluten-free, just make sure to use gluten-free soy sauce. For a grain-free option, use all the same ingredients except swap the quinoa for cauliflower rice and add hemp seeds for protein. Recipe by Happy Kitchen. Rocks. Get the recipe here.
Nut Butter Blast Peanutyy Pad Thai Zoodles. Creamy peanut butter, sweet red peppers and crunchy cabbage give this flavorful dish bold textures and flavors. Perfect for summer and warm nights when you do not want to turn on the oven! Recipe by Dianne's Vegan Kitchen. Get the recipe here.
Mushroom Bolognese Zucchini Noodles. A vegetarian mushroom bolognese sauce tossed with zucchini noodles and packed with flavor! You will never miss the meat here! Recipe by My Darling Vegan. Get the recipe here.
Vegetarian Mexican Stuffed Peppers. Yummy taco spices, beans, corn, rice (or use cauliflower rice for grain-free) stuffed in sweet bell peppers is a family favorite! Serve this satisfying vegetarian dish with a splash of lime and avocado slices! Get the recipe here.
Grilled Ginger Cauliflower Steaks with Tahini Sauce. Thick cauliflower grilled to perfection with spices and a slightly spicy tahini sauce you'll want on all your vegetables! Be careful, you may just want to eat this whole dish! Recipe by Strength and Sunshine. Get the recipe here.
Zucchini Chickpea Stew. A summertime favorite and winter comfort food at its best! Recipe by Veggies Save The Day. Get the recipe here.
Vegetarian Red Curry Stir Fry. This wholesome meal is quick, paleo, flavorful and ready in 30 minutes with little clean-up! Recipe by the Happy Kitchen. Rocks. Get the recipe here.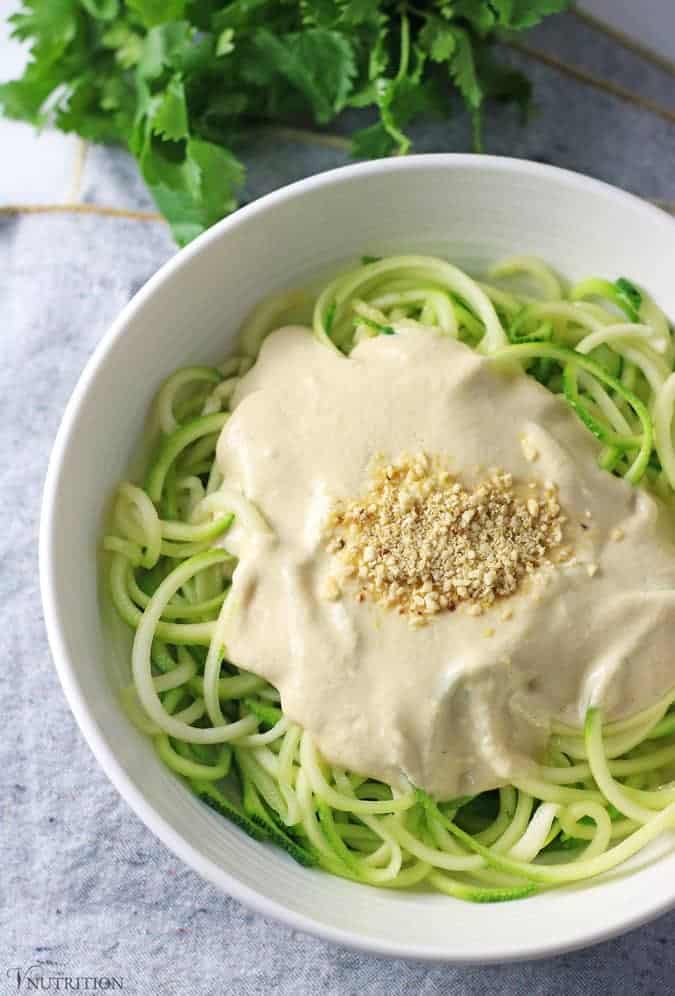 Vegan Zucchini Pasta Alfredo. This recipe is a great way to use up summer zucchini squash! It is made with a creamy cashew and nutritional yeast vegan cheese sauce, is low in carbs and fantastic when you crave creamy dairy foods! Recipe by VNutrition and Wellness. Get the recipe here.
Chana Masala Recipe. An easy and healthy 30 minute meal made in one pot! This chana masala encompasses curry spices and creamy coconut milk in a tomato base sauce It is best served with rice or cauliflower rice. Get the recipe here.
Vegan Cauliflower Lentil Loaf. Who would have thought, you can made a delicious vegetarian lentil loaf adding cauliflower rice for incredible texture? This "meat" loaf looks and tastes similar to a traditional recipe. It is gluten-free, nut free and soy free! Recipe by Strength and Sunshine. Get the recipe here.
Portobello Ratatouille. Ratatouille is a delicious recipe made of nutritious vegetables! This version of the French dish, has chickpeas for protein and substitutes eggplant for portobello mushrooms. Recipe from The Nut Free Vegan. Get the recipe here.
Mediterranean Jackfruit Salad. Have you tried Jackfruit yet? It has a consistency that tastes like pulled poultry only it is a delicious fruit that grows on trees, originating from southwest Asia. Toss it into this favorite salad or turn into lettuce wraps! Recipe by Tasting Page. Get the recipe here.
Low Carb Vegan Zoodles with Peanut Sauce. Sriracha, soy sauce, peanut butter and lime… oh my! Those flavors together are what make these zoodles epic! Recipe by Bear Plate. Get the recipe here.
Red Curry Cauliflower Rice Vegetable Soup (Instant Pot). This red curry soup looks amazing and it is quick and easy in the Instant Pot! With only 8 ingredients, you can enjoy a delicious, spicy, low carb soup in 20 minutes! Recipe by Green Scheme. Get the recipe here.
Easy Traditional Spaghetti Sauce Recipe. This one comes with a cashew Parmesan recipe and an easy marinara sauce with added protein from walnuts. Recipe from Vegetarian Gastronomy. Get the recipe here.
Healthy 10 Minute Vegetarian Taco Salad. Make the rice (or use cauliflower rice) ahead of time for quick 10 minute Mexican dinner! Leftovers can be turned into a burrito for the next night! Get the recipe here.
Simple Cannellini Tomato Cucumber Salad with Avocado Broccoli Dressing. A simple salad made with cannellini beans, juicy tomatoes, fresh cucumbers and a creamy avocado broccoli pesto dressing. It is so easy to pull together and packed with muscle building nutrients! For lower carbs, swap out the beans for tofu or pumpkin seeds. Get the recipe here.
Tomato Basil Soup. This one we can eat for days all year round! It is one of my kids favorite recipes that they request at least once a week and they even make it themselves. Juicy sweet tomatoes and fresh basil leaves are the secret to the best tomato soup! Recipe from my boys and I. Get the recipe here.
One more bonus recipe. Sometimes dinner does not feel complete without a roll or comforting side, do you feel me?
Grain-Free Cauliflower Buns. Let's not forget the dinner rolls! Carrie has made the most spectacular grain-free cauliflower buns that you have to try! Wouldn't these be delicious as a side or to dip into the sauces of any of these meals? Recipe from Clean Eating Kitchen. Click here to get the recipe.
I hope you enjoy these recipes. One month of vegetarian dinners, ready to be printed and saved for meatless Monday or a month of easy vegetarian dinner recipes!
PIN THESE VEGETARIAN DINNER RECIPES TO SAVE!